I don't want to be cutting edge...To move in an art form, you don't have to push at the edges; you can dig down into the stuff itself.
Dance is a life, everyday. Don't miss it. You're in bodies, you can move, you're not in wheelchairs. Where is your joy?
Choreography is mentally draining, but there's a pleasure in getting into the studio with the dancers and the music.
In this business, life is one long fund-raising effort.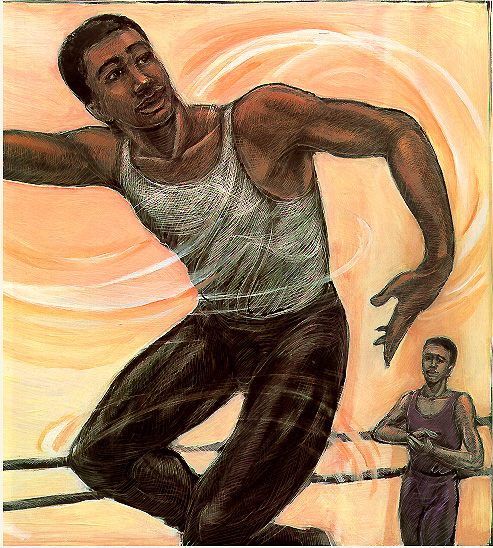 Painting, 1993, Pinkney, Andrea (texts) & Pinkney, Brian (illustrations):
Alvin Ailey. New York, Hyperion, 1993.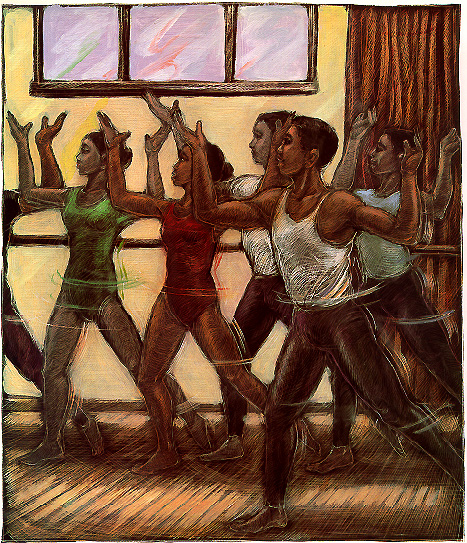 Brian Pinkney, Alvin Ailey at Lester Horton's Dance School,
Painting, 1993, Pinkney, Andrea (texts) & Pinkney, Brian (illustrations):
Alvin Ailey. New York, Hyperion, 1993.
Everything in the universe has rhythm. Everything dances.
Dance is a sort of silent rhetoric.
The way to heaven is too steep, too narrow for men to dance in and keep revel rout. No way is large or smooth enough for capering rousters, for jumping, skipping, dancing dames but that broad, beaten, pleasant road that leads to Hell. The gate of heaven is too narrow for whole rounds, whole troops of dancers to march in together.
I have no desire to prove anything by dancing. I have never used it as an outlet or a means of expressing myself. I just dance. I just put my feet in the air and move them around.
You see, every once in a while I suddenly find myself dancing.
You know, there's a difference between dancing and wrestling. In dancing, the main idea is to keep your partner's shoulders off the floor.
When success goes to a dancer's feet, it's alright. When it goes to his head, he's top heavy.
Imagine a man like me having to dance for a living.
Couldn't I be the fellow who never gets his name mentioned - the one they call 'a friend'? You know, 'Ginger Rogers and friend'.
I am not Nijinsky. I am not Marlon Brando. I am Mrs. Hunter's little boy Tony - song and dance man.
If the dance is right, there shouldn't be a single superfluous movement.
Some people feel that good dancers are born. All the good dancers I've known have been taught or trained.
Can't act!. Can't sing!. Balding!. Can dance a little.
I would rather dance as a ballerina, though faultily, than as a flawless clown.
Dance till the stars come down from the rafters Dance, dance, dance till you drop.
All the dancer's gestures are signs of things, and the dance called rational, because it aptly signifies and displays something over and above the pleasure of the senses.
Fine dancing, I believe like virtue, must be its own reward. Those who are standing by are usually thinking of something very different.
It may be possible to do without dancing entirely. Instances have been known of young people passing many, many months successively without being at any ball of any description, and no material injury accruing either to body or mind.
To be fond of dancing was a certain step towards falling in love.