A dance is a measured pace, as a verse is a measured speech.
A violinist had a violin, a painter his palette. All I had was myself. I was the instrument that I must care for.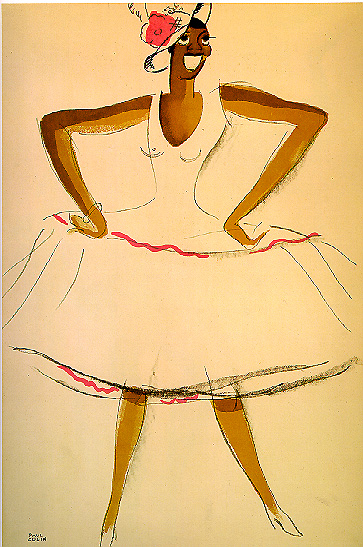 color, 1927, Le tumulte noir. Paris, 1927, "Josephine Baker and La Revue Nègre." Paul Colin's lithographs
I don't want people who want to dance, I want people who have to dance.
Dance is music made visible.
See the music; hear the dance.
First comes the sweat. Then comes the beauty if you're very lucky and have said your prayers.
The mirror is not you. The mirror is you looking at yourself.
Dancers are instruments, like a piano the choreographer plays.
Someone once said that dancers work just as hard as policeman, always alert, always tense, but see, policeman don't have to be beautiful at the same time.
You haven't got anything to dance about until you're over thirty-five anyway.
Nobody cares if you can't dance well. Just get up and dance.
Ladies! Dance like a peacock, not a feather duster!
The essence of all art is to have pleasure in giving pleasure.
I do not try to dance better than anyone else. I only try to dance better than myself.
No dancer can watch Fred Astaire and not know that we all should have been in another business.
Dancing can reveal all the mystery that music conceals.
There are short-cuts to happiness, and dancing is one of them.
You should make a point of trying every experience once, excepting incest and folk-dancing.
Dance first. Think later. It's the natural order.
Dance, v.i. To leap about to the sound of tittering music, preferably with arms about your neighbor's wife or daughter. There are many kinds of dances, but all those requiring the participation of the two sexes have two characteristics in common: they are conspicuously innocent, and warmly loved by the vicious.
A correct execution of an adagio is the nec plus ultra of our art; and I look on it as the touch-stone of the dancer.
The dancer gradually introduces all that his art comprises.
Ballet is not technique but a way of expression that comes more closely to the inner language of man than any other.
It is not so much upon the number of exercises, as the care with which they are done, that progresses and skill depend.
I learned to act by watching Martha Graham dance, and I learned to dance by watching Charlie Chaplin act.
All there is to be said for work compared to dance is that the latter is so much easier.
All there is to be said for work compared to dance is that the latter is so much easier.
Any problem in the world can be solved by dancing.
A child sings before it speaks, dances almost before it walks, music is with us from the beginning.
Dance can give the inarticulate a voice
The human animal dances wildest on the edge of the grave.
Dance every performance as if it were your last.
The call to dance is a response to a primitive urge to rhythmic motion. It is an unavoidable internal rhythm of life.
In life, as in art, the beautiful moves in curves.
To shake your rump is to be environmentally aware.
On with the dance! let joy be unconfined; No sleep till morn, when Youth and Pleasure meet To chase the glowing Hours with flying feet.