Dance is so important in the world. It needs no language. Our bodies speak a language of their own.
I liked tap, because I liked hearing the results of my movements.
As soon as I hear music, something in me starts to vibrate.
My friends and I had taken dancing lessons, although none of us w ould ever admit it. In those depression days, a friend of my mother was trying to make a living by teaching dancing in the evening, in an upstairs dance studio. There was a back door to the place, and she arranged it so the young men could come up through the back way without being seen.
Dancing's just a conversation between two people. Talk to me.
Great artists are people who find ways to be themselves in their art. Any sort of pretension induces mediocrity in art and life alike.
I explained it when I danced it.
Genius is another word for magic, and the whole point of magic is that it is inexplicable.
The one important thing I have learnt over the years is the difference between taking one's work seriously and taking oneself seriously. The first is imperative and the second disastrous.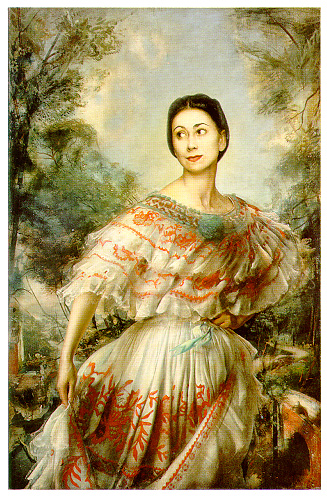 Dame Margot Fonteyn
Pietro Annigoni
Painting, oil on canvas
1955
153.3 x 100 cm
U.K., London,
National Portrait Gallery, property of Querube Arias
I have the same opinion of dances that physicians have of mushrooms: the best of them are good for nothing.
We dance round in a ring and suppose But the secret sits in the middle and knows.
Good dancers have mostly better heels than heads.